About
5i Strategic Affairs has been offering consulting, training, facilitation and coaching services to all types of organizations around the globe for over 20 years.
It specializes in managing and optimizing the strategic planning or strategic-decision-making processes for organizational leaders irrespective of their field of activity.
What differentiates 5i from its competitors?
Its expertise in identifying, challenging and validating the prevailing "Strategic Assumptions" behind a client's beliefs, preferences and decisions.
Its insistence on using scenario-planning techniques as opposed to trying to predict the future
Its focus on educating clients throughout the working relationship
Its belief in "360 organizational sustainability" and not just token gestures of CSR
Its understanding that organizations are more than just the numbers. The numbers are but one (important) outcome from the successful implementation of the best possible way of solving an organization's issues and problems .
5i Strategic Affairs gets its name from the rigourous but flexible 5i process that the organization uses:
Issues
We identify the key issues that affect the organization's performance and available alternatives.

Imagination
We identify, examine and evaluate all possible outcomes, given the situation and all alternatives available to the organization. The prevailing "Strategic Assumptions" are identified, challenged and validated.

Intent
We guide and support the decision-making process, helping to make critical decisions concerning the direction of the organization in light of identified issues and alternatives.

Innovation
We develop a viable implementation plan and project portfolio complete with performance indicators and targets to help the organization realize its goals.

Impact
We monitor progress, take corrective action and offer individual and/or multi-level organizational support and coaching to principals and staff to ensure that all the performance objectives are achieved.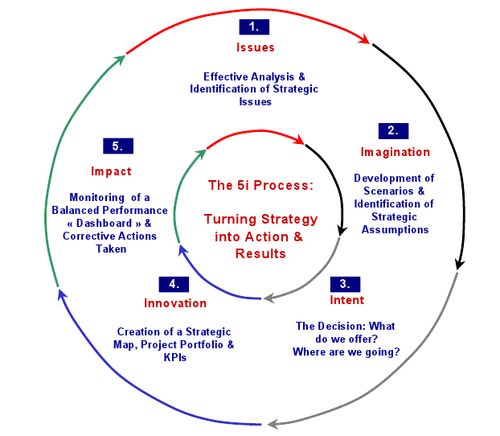 The 5i Process